Custom Polymer Clay Cutter
15.00€
Our simple personalized cutter is made in 3D printing with a resistant filament that is obtained from natural raw materials.
Description
Special order for Cary Hogan
+ Custom angel design based on the photo but with a snowflake inside.
+ Maximum cutting dimensions 28×24 mm approx.
1 copy
PRODUCTION TIME: 2 to 5 business days
• MATERIAL: PLA
IMPORTANTE:
This cost covers the creation and printing of a cutter and its copies if necessary, but does not include the original files or their rights, since each 3D digital file is a small industrial matrix that is marketed with other types of licenses. Ask for a quote if you need an exclusive cutter for your brand.
Use tips
All of our cutters have sharp edges that allow a clean cut that minimizes your subsequent polishing task for a thickness of 3mm apx., however we recommend that you use corn starch or a sponge soaked in soapy water to prepare the edges and contours and facilitate the task of cutting or stamping, especially in those products that have small details. Press initially to score and then fully to cut. You will see that the results are amazing!
care tips
Do not expose your cutters to high temperatures or to the sun for long periods of time to prevent them from deforming.
Clean them with soapy water or a damp cloth after use.
Not dishwasher safe.
Custom cutters
Custom size
+ When available, you can purchase the same design of the listing in a custom size.
+ As a reference, you can ask for measurements from 20 mm in some cases, 30 mm in others. This has to do with the complexity of the cutter and its design.
+ As a reference, you must consider the maximum length of the cutter as MEASUREMENT (which we usually publish in the model detail in the product description)
Guide yourself with the following detail: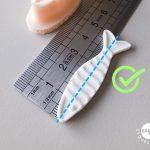 Available measures:
05-04 PEZ50 / 50mm
Where 50mm is the maximum length of the CUT (not the cutter)
Custom design
If instead what you need is a fully custom cutter, we will need to know the design and measurements to be able to check that your project is possible and send you a quote. If you decide to purchase, we'll create a custom order and pay to your liking through our site. Send a WhatsApp message before buying. We do not reproduce products from other sellers, nor do we sell our files for reproduction.
Shipping and free shipping
Shipments are made through Correos de España. If your shipment exceeds 50 eu, the amount is free.
We will inform you of the tracking number at the time of dispatch.
Only logged in customers who have purchased this product may leave a review.